The Inclusive Dashboard helps you keep a pulse on how many students take part in your program. You can track the overall opt-out rate with the the "Participating Students" bar at the top of the page in the "View / Email Courses" tab. In the example below, the opt-out rate for all courses (one) is 91.67% with 11 out of 12 students opted in.
This page also shows opt-out rates by course. In the example, 8% of the students in Biology 101 have opted out.
Clicking the hyperlinked Course Title allows you to explore data for that course. Again, the "Participating Students" bar at the top shows how many students opt in for access.

Scroll down to see the individual students in a particular course. Click the plus-sign icon (+) to the left of the student's name to see why the student elected to opt out.

To track specific students who opted out, click on "View/Email Participants" on the left side of the page.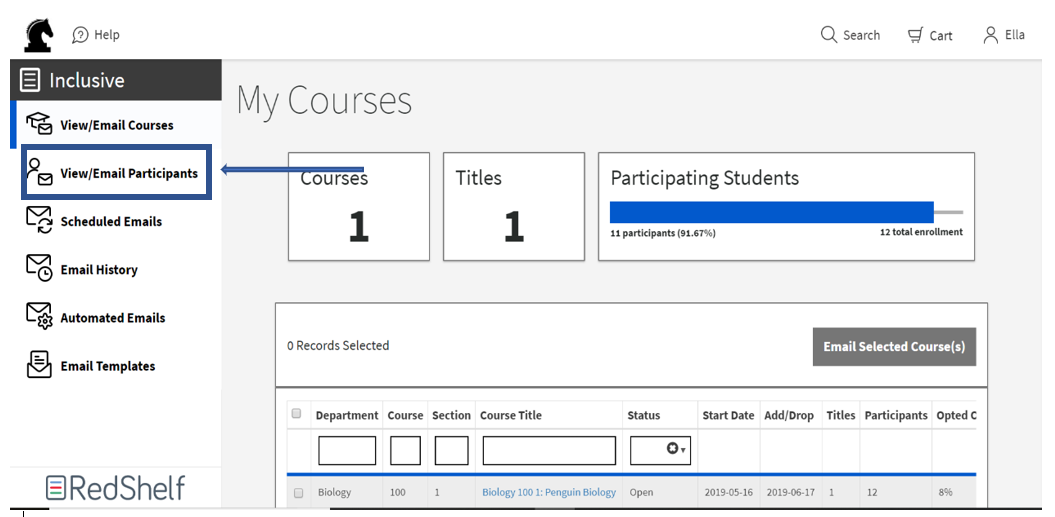 On the "View/Email Participants" page, scroll to the right until you see the "Status" column next to the "Add/Drop" column.
In that column, click the small arrow under "Status" to get to a drop-down menu. From that drop-down, click "Opted-Out" to see every student who opted out of Inclusive Access.
The number at the top will also change, letting you know the exact number of opted-out students.
We're always happy to answer additional questions about opt-outs - don't hesitate to let us know!