Text-to-speech is a huge focus for RedShelf's development team and we're happy to announce that many of our eBooks have an audio feature! 
This is an experimental launch of the feature, so please provide feedback through the eReader on your experience - if you encounter a glitch, we want to hear about it!
To enable text-to-speech, click the four-horizontal-bars icon in the top left corner of the screen to open the menu. Scroll to the bottom of the menu to select "Experimental Features". A new menu will pop up - toggle the "Text-to-Speech" from "off" to "on" to start enable reading aloud. From there, you can choose the reader voice, rate, pitch, and volume that works best for you!
A "Start Reading" button will appear in the top right corner of the screen. Click the "play" icon (a right-pointing triangle arrow inside a circle) to start the text-to-speech feature! A "pause" icon (two vertical bars inside a circle) will replace that image - just click it again to stop the reader.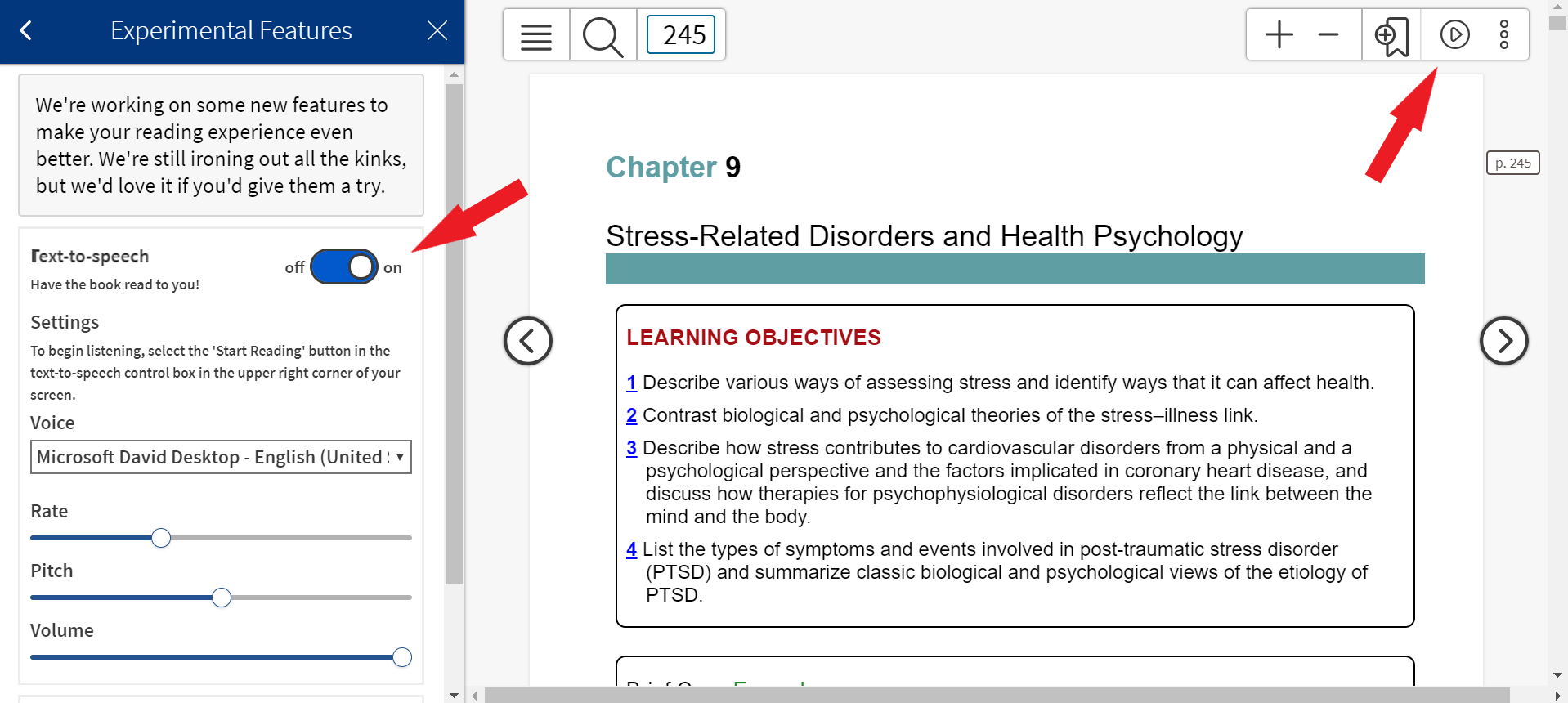 ​​​
What if the Text-to-Speech Tool is Not Available?
When text-to-speech is unavailable in your book, you will not see the option to turn it on.  In this case, we recommend the following tools and browser extensions to have the content read aloud:
Here are some browser extensions you can use:
Firefox / Read Aloud TTS Voice Reader
Chrome / Natural Reader Text to Speech (you can also download the Natural Reader app via their website.)​
Edge / Read&Write for Microsoft Edge
Kurzweil users can activate the the Kurzweil Read the Web plug-in with our reader in the Chrome browser.  Here's how: Read the Web for Google Chrome
(Note: Users will need a Kurzweil login from their school to use this plug-in)


Read Aloud tools built into your device:
Mac/iPad/iPhone users can turn on the built-in read aloud app called Voice Over.
Here's how: Mac OS Voice Over Info Guide
 PC/Windows users can turn on their built-in read aloud software called Narrator.
Here's how: Getting Started with Windows Narrator (Works best in Edge Browser)
Additional Support​ for Students Needing Accommodations
If this read aloud feature does not meet your needs, please fill our our accessibility request form and our Accessibility Director will work with the publisher to release an accessible file to you. Please note that RedShelf needs to coordinate with your school's Disability Services Office in order to provide additional files or resources. If you are currently registered, please let us know who you work with at your school - name and email would be most helpful!