20 Times Calvin and Hobbes Totally Understood College Life
Seriously...how dare they give us time to do our assignments?

Maybe we didn't bust out a coin, but we've all been here.

Actually though...never really thought about this.
As soon as August comes around...

This is...profoundly true.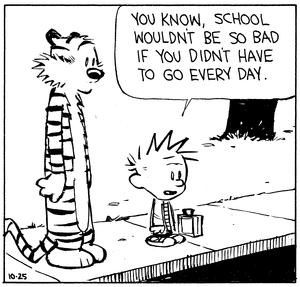 What's the class that comes to mind?

Every time it's 72, sunny, with a slight breeze...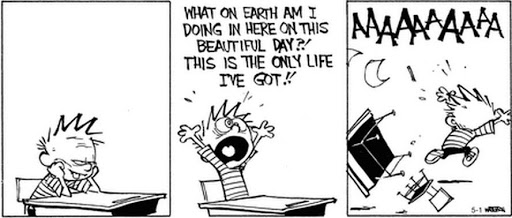 Me after every finals week...
We wouldn't be this cruel, but is it really too far from the truth?
These are the important questions to ask...

Which class would be your "dinosaur" class?
Syllabus week should be a free-trial.



So incredibly relatable...
This is a moment every college student comes across at least once

Welcome to post-graduate life.

We're all basically this until break.

School life shouldn't be as bleak and draining as Calvin makes it out to be, but I know it can be sometimes. That being said, I hope in the middle of whatever paper you're writing, test you're studying for, or reading you're doing, you do remember to take a break, enjoy life, and know that your grades don't define who you are :)

Daniel, our Customer Experience Specialist, is huge fan of words. There isn't much Daniel appreciates more than the power of words - it's why it's hard for him to get along with babies, but also why he's always loved Calvin and Hobbes. If all kids were like Calvin, he probably would have become a teacher, but they're not. So working at an eBook company while reading Calvin and Hobbes will have to do.
Please sign in to leave a comment.