6 Smoothie Recipes to Jump-Start Your Day
In simpler times, "summer" and "school" were mutually exclusive terms… not so much anymore. In fact, summer school classes, often condensed into a few weeks, can be even more intense than courses throughout the academic year. So it's especially important to fuel your brain and body in healthy ways!
At RedShelf, we're big fans of S M O O T H I E S. Fruits, veggies, vitamins, minerals, antioxidants, protein - all the stuff you need to absorb and retain the info in your eBooks and lectures. Here are some of our favorites!
**A few notes**
All recipes are gluten-free and can be made dairy-free or vegan.
All recipes make one serving unless noted otherwise.
Instructions for all recipes are as follows unless noted otherwise:
Blend.
Optional add-ins for any smoothie:

Protein powder
Collagen (AKA super-protein powder)
Chia seeds
Handful of spinach leaves
Avocado
Greek yogurt
Honey
Most recipes call for frozen bananas (though they certainly don't have to be frozen). I recommend peeling the banana before putting it in the freezer, otherwise the peel freezes to the fruit and you'll have to pick it off in chunks and (more importantly) your hands will get cold. If you're not a fan of bananas, you can add ½ cup of greek/alternative greek yogurt or ½ avocado to achieve that essential creaminess.
DIY Fruit Smoothie
This one is great because it doesn't require a bunch of groceries and kitchen tools and planning. Blender, measuring cup, fruit, liquid, done.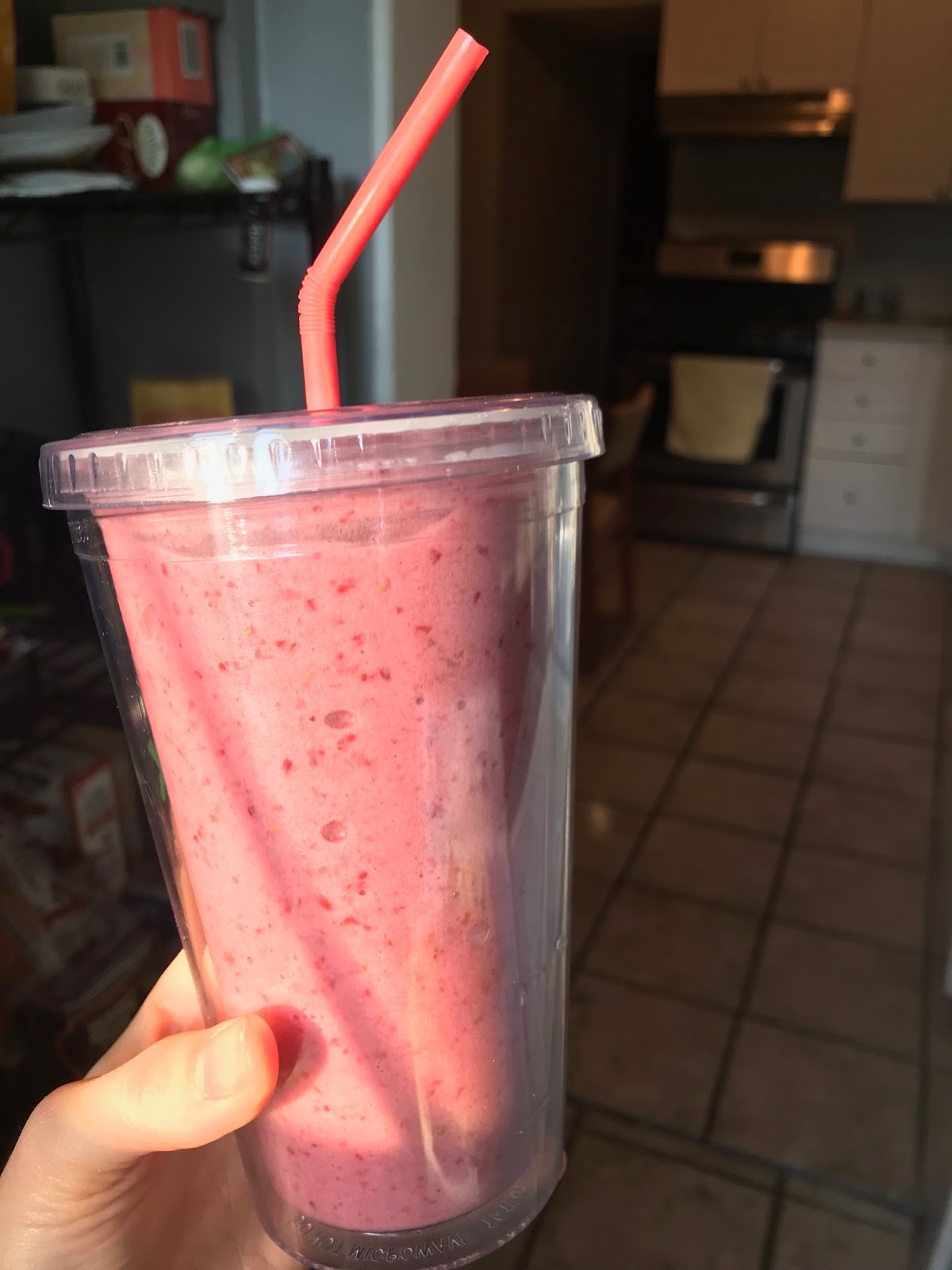 INGREDIENTS
1 frozen banana
1 cup frozen fruit of your choice (this one is strawberries!)
¾ - 1 cup liquid of your choice

Fruit juice (RedShelfer Jeff recommends a splash of apple juice; Lys is a fan of white grape)
Milk or milk alternative
Water, if you don't have juice or milk around (I used water above)
Mocha Smoothie
Let's kill two birds with one stone here: breakfast and your morning coffee rolled into one!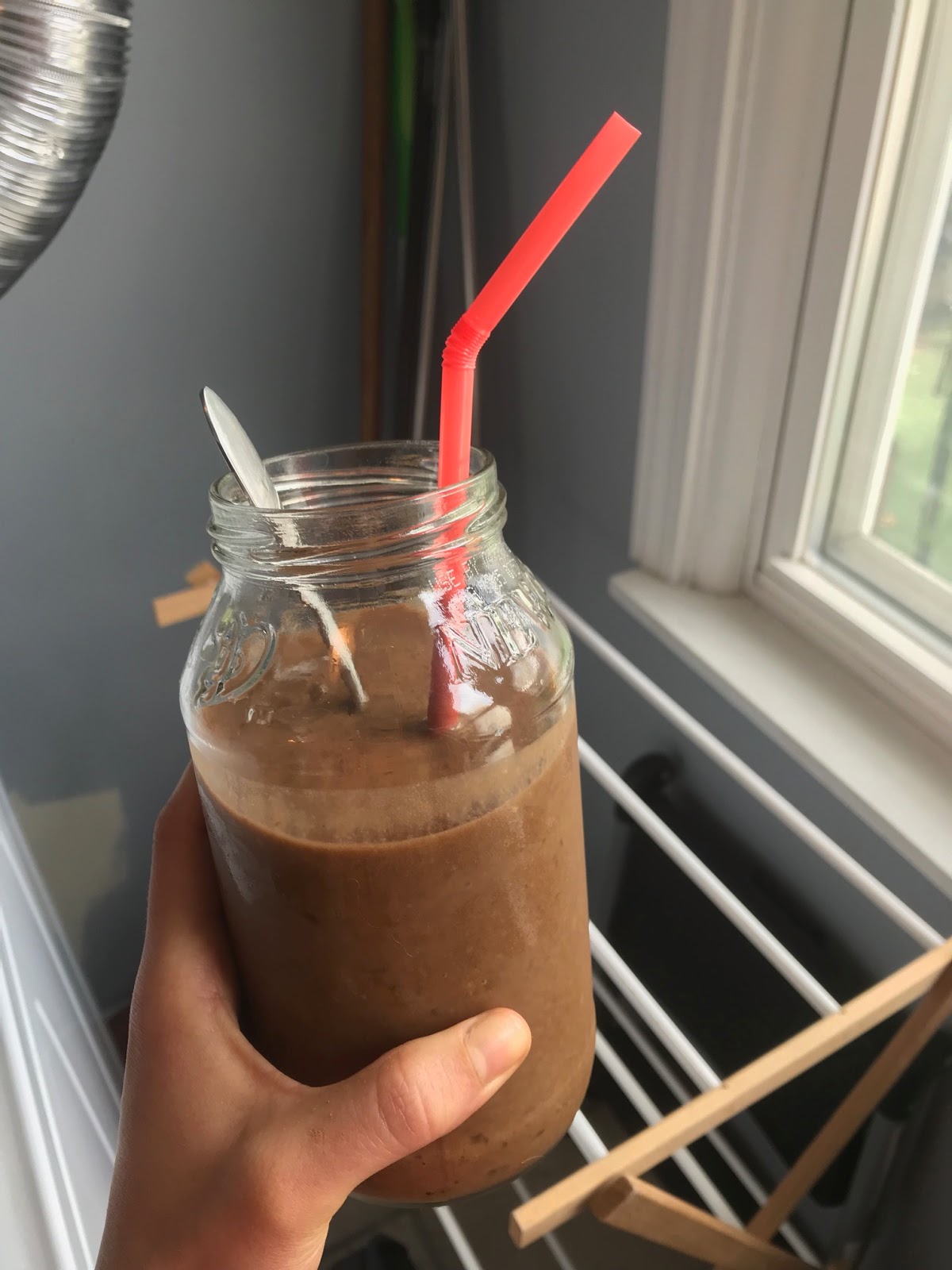 INGREDIENTS
1 frozen banana
1 cup leftover strong-brewed coffee

Tip for handling leftover coffee—pour it into an ice cube tray and freeze.

1 tbsp unsweetened cocoa powder
½ cup plain Greek yogurt or ½ avocado (I used avocado here)
½ cup water
1 scoop protein powder
Chocolate Peanut Butter Smoothie
For a peanut butter junkie like me, this smoothie (inspired by Hayley at Nourish Your Glow) hits the spot. A little bit salty, a little bit sweet, a lot perfect.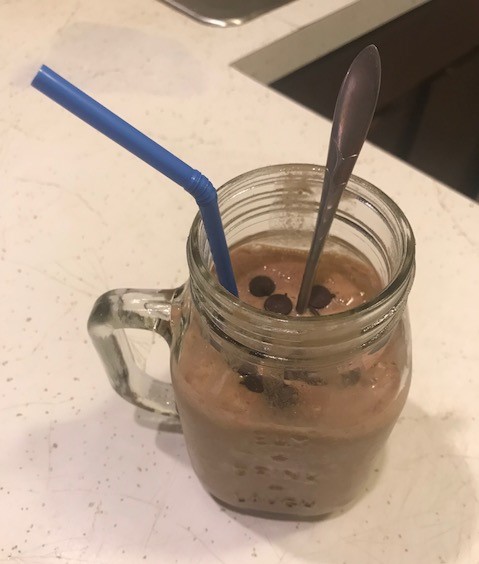 INGREDIENTS
1 frozen banana
2 tbsp creamy peanut butter or powdered peanut butter
2 - 3 dates, pitted
1 tbsp unsweetened cocoa powder
⅔ cup ice
1 cup unsweetened nut, coconut or dairy milk
Chocolate chips to sprinkle on top
Avocado Coconut Smoothie (2 servings)
You'll love this one (inspired by Amy at Chew Out Loud) if you like your smoothies real ~smooth~. The creaminess of the yogurt is punched up with the avocado and coconut milk, giving the smoothie an almost pudding-like texture right out of the blender. If you decide to freeze half for later, it looks, feels, and tastes like your favorite fro-yo.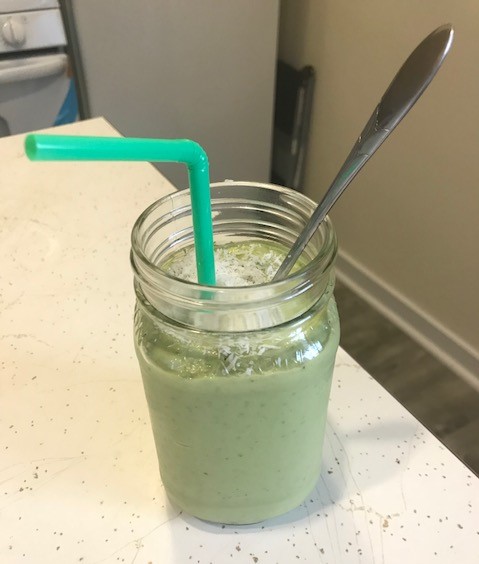 1 large, just ripened avocado
1 cup whole-fat Greek yogurt (vanilla or honey)
3 - 4 tbsp honey, depending on desired sweetness
1 ⅓ cup unsweetened coconut milk
1 cup baby spinach leaves
1 scoop vanilla protein powder
½ - ¾ cup crushed ice, optional
Unsweetened coconut flakes to sprinkle on top
Creamy Avocado Berry Smoothie
RedShelfer Lys loves to experiment with different flavors and textures. Berries? Avocado? Cauliflower?! Together?!?! We were skeptical too, but you better believe it: they go together. Delightfully.
INGREDIENTS
½ cup mixed berries
Banana
¼ avocado
Splash of white grape juice
½ cup frozen cauliflower
Cashew Date Smoothie (2 servings)
This nutty recipe (inspired by Lisa at Downshiftology) requires the most planning and ingredients, but I'd say it's my favorite. It's smooth yet substantial and the date chunks are fun little treats-within-a-treat.
INGREDIENTS
⅔ cup raw cashews, soaked for 2-4 hours
6 Medjool dates, pitted and soaked for 10 minutes
1 banana, sliced and frozen
¾ cup water
2 cups ice
1 tsp vanilla extract (I add two scoops of vanilla protein powder instead)
¼ tsp nutmeg
Pinch of cinnamon
Pinch of sea salt (optional)
INSTRUCTIONS
Once your cashews and dates have been soaked and drained, throw them into a high-powered blender.
Add the remaining ingredients and blend on high until thick and creamy.
Each recipe may require a little tweaking to get the texture and flavor exactly to your preference, but honestly, it's pretty hard to screw up a smoothie… and much easier to add a twist to make it your own!



Alex P is RedShelf's Customer Experience Expert/blog editor. When Alex isn't hanging out on RedShelf's rooftop deck or making smoothies, she's likely doing something crafty with old t-shirts and wine corks or wandering aimlessly, earbuds in, listening to a Cleveland Indians game.
Please sign in to leave a comment.